Sinister, Ominous and Unnerving. Inside is an unsettling, mood  altering masterpiece.
Inside is the highly anticipated follow-up release to the critically acclaimed indie title Limbo, developed and published by Playdead studios. Inside is a 2D side scrolling platform adventure, in which you follow the escapades of a juvenile protagonist avoiding a myriad of dangerous perils and pitfalls whilst interacting with the environment around you to solve perplexing puzzles.. Oh and, in case I forgot to mention, escaping a gruesome death.
These Machiavellian riddles are guaranteed to leave you scratching your head in a discombobulated state of psychosis at least once or twice, so beware.
Initially the team had built a refined custom game engine to accommodate for Limbo, but selected to utilize the Unity engine this time around to help create a distinct, authentic aesthetic and to lighten the tasks at hand. Immediately after playing Inside you can easily identify the stark thematic and visual similarities between it and its predecessor.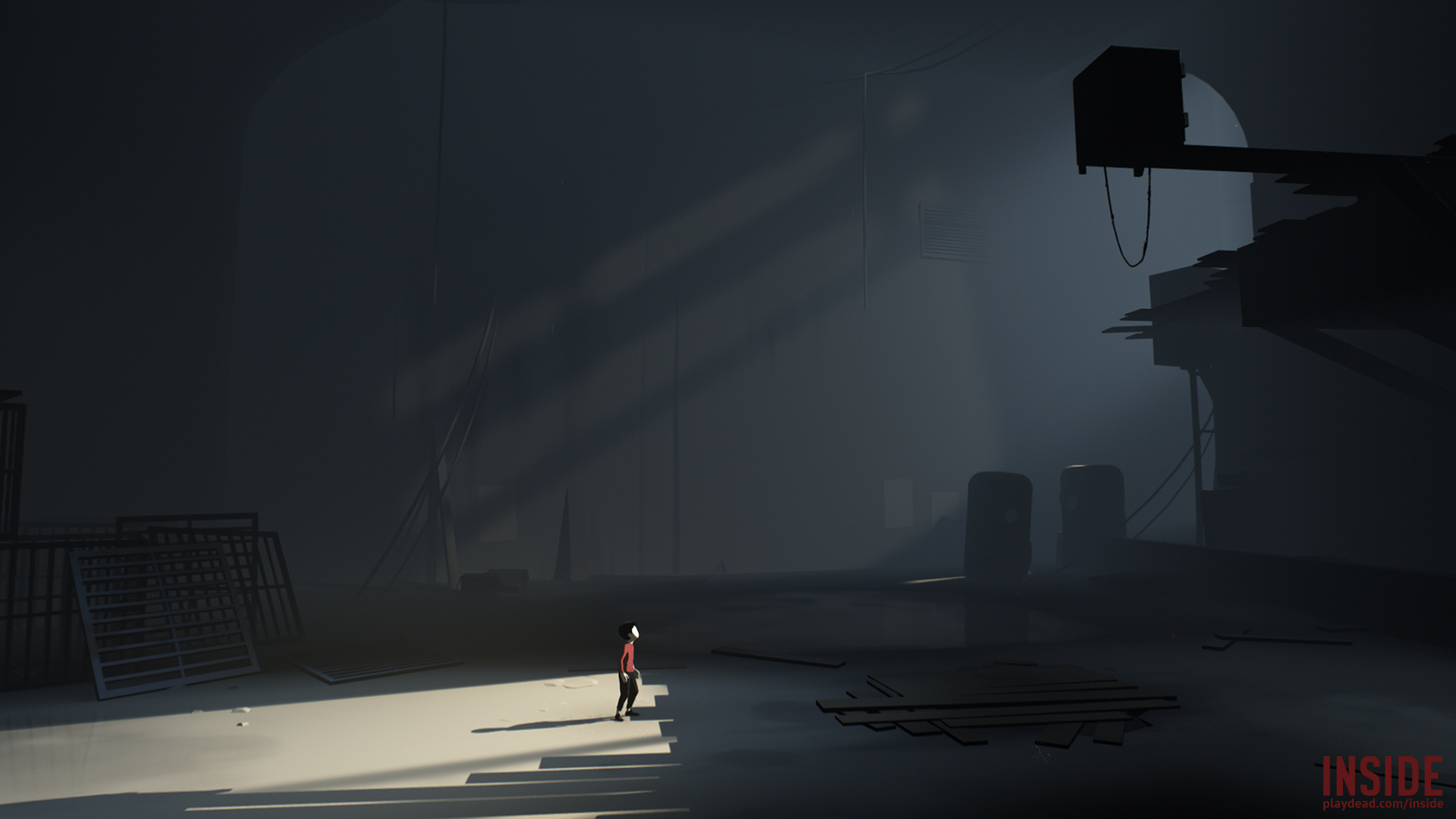 Traversing through the all-familiar unsettling haze, corralled by the hauntingly alluring ambient score composed by Laurids Binderup, like moths to a flame you feel compelled to push forward.
As you hop, skip and jump through the all-consuming mist hovering over a remote and eerie forest setting, you can't help but feel spooked by the sound of faint emptiness. The resonance of your own footsteps unsettle the nerves. You instantly become aware that your objective is to sneak and evade, creating as little noise as humanly possible to prevent attracting the attention of the ominous masked men in black guarding the compounds of an isolated facility. I was concerned and immediately empathized with the character. This is no place for a prepubescent laddo to be loitering.
Inside is packed full of thrilling survival sequences. For instance as I reached a clearing in the eerie landscape, I was forced to cross an embankment hunted by a ferocious guard dog honing in on its prey. The chase was on. Alone and in danger, I leapt across a ravine desperately grabbing a seemingly out of reach vine to haul myself up the steep cliff-edge. This was exhilarating, and equally terrifying as I attempted to elude this frightening beast. Another memorable moment early on in the game occurred when you enter an opening in the foggy woods, a car drives up the path grinding to a halt with its headlights directed towards you.
You have no choice but to push forward past the dazzling headlights. Just as you think you have avoided the detection of the guard, you hear the car door slam, the flashlight flicker, and fast paced footsteps. A shadow emerges from the murk… You are being rampantly pursued.
The chase involved well timed jumps to avoid oncoming obstacles such as felled trees or boggy swamps which slow your progress.
More goons join the search party and begin firing bullets in your vicinity. I failed a couple of times and was horrified to witness the grim, ghastly death of your character forcibly submerged in water and subjected to suffocation by strangulation… Yep… Pretty darn grim. In fact all the deaths are spine-chilling. It was harrowing to see the fate of this child.
These action sequences are delivered with vivid, suspenseful effect. You are unaware what lies ahead of you. All you can hear is the elevated panting of the boy as the intensity of the chase increases, surrounded by a dark unforgiving landscape I was immediately immersed and my senses aroused.
Inside is punctuated with plenty of bleak, somber scenes throughout. Such as a heap of rotting pig carcasses located outside an abandoned ramshackle barn.
Or being chased by a colossal rodent on the rampage and headbutted to the heavens… whatever next I wondered. Another shocking scene was following a herd of rotting half-dead cadavers, being lined up for some frightful human experiment.
You would have to be made of stone not to be moved by some of the striking, deeply affecting imagery on show. Inside is jam packed full of the bizarre and surreal, creating a limbo-like melancholy that lingers throughout your journey.
I found myself fully enveloped in the disconcerting, dark and twisted world of Inside.
The animation is smooth and crisp, whilst the haunting ambient score really encapsulates the sense of isolation instilling a sinister unsettling mood.
It's not all doom and gloom folks. Unlike Limbo which offered an unceasing plague of darkness some of the levels have fleeting light, and you will actually praise the heavens when you catch a brief glimpse of sunshine in this otherwise godforsaken cesspit of doom…Alleluia
I mean that as the greatest compliment. The world paints a vivid picture, and an authentic one.
The inventive and imaginative puzzles on offer require absolute concentration, astute Sherlock-esque deductive skills and a keen eye at all times. Your memory serves a purpose too, as you often have to retrace your steps to complete a complex conundrum or unlock a new stage.       
10/10 Unmissable
Overall - 100%
If you're looking for a light hearted, happy as a clam walk in the park romp. (let's have a cuddle party) then you're going to be in for an almighty shock. Inside is a truly immersive, darkly themed linear story driven experience which sets the tone with its sinister monochromatic landscape and ominous ambient score. The remarkable thing about Inside is its ability to evoke emotion from the cunning trickery of its simple mechanics, through elegant use of lighting and music.